Minnesota Psychiatric Services Provider
---
Therapy is an invaluable tool that can benefit you throughout your wellness journey. As each client is different, however, you may discover that improving your quality of life is better achieved through a combination of therapy and medication management.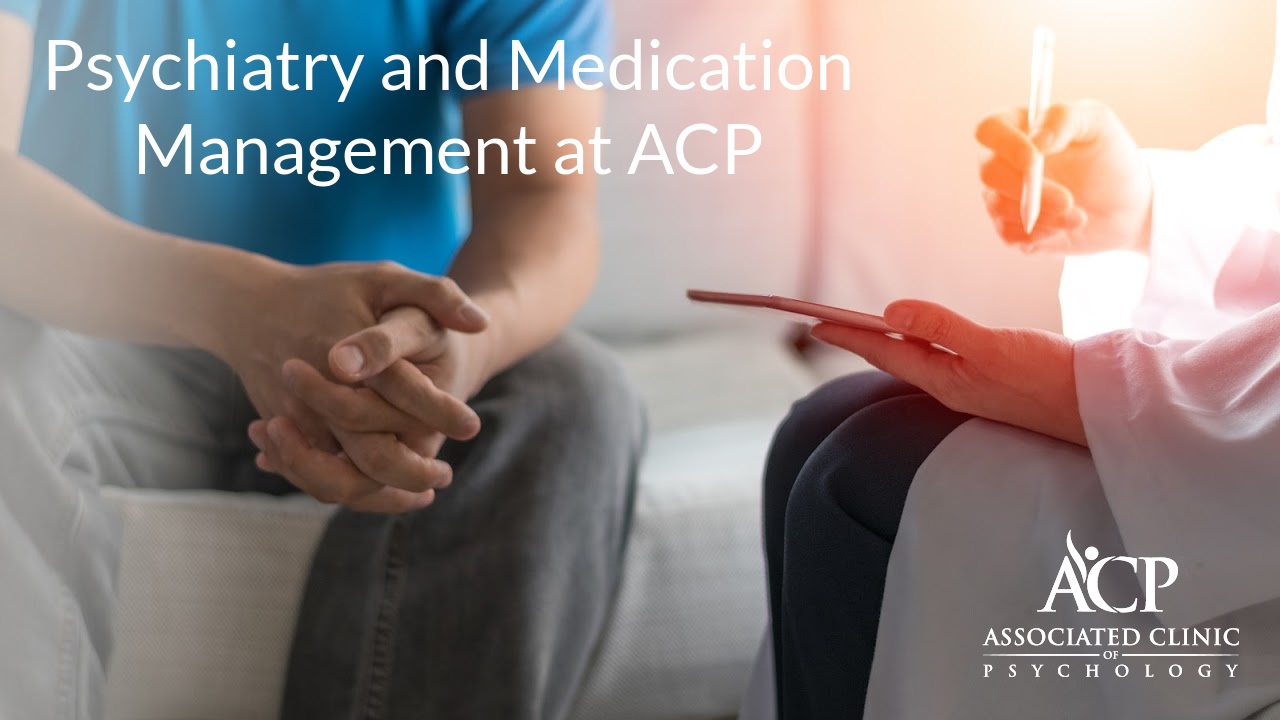 Child and Adolescent Psychiatry
Child and Adolescent Psychiatry
Psychiatric disorders among children may include depression, anxiety, phobias, and ADHD/ADD, among other conditions that affect your child's behavior and emotional health. If you feel your child or adolescent may benefit from the use of medication, contact ACP to schedule an assessment of your child.
Adult Psychiatry
If you're struggling with symptoms of depression, experiencing frequent panic attacks, or becoming dependent on substances to get through each day, request an appointment with ACP to find out if our adult psychiatry service can help you manage your symptoms.
Psychiatry is the branch of medicine that focuses on the diagnosis, treatment, and prevention of mental, emotional, and behavioral disorders. Administered by a trained and licensed medical professional, psychiatry involves the use of medication management and ongoing assessment to ensure you're receiving the essential therapeutic benefits from your treatment.
A psychiatric provider at Associated Clinic of Psychology (ACP) will meet with you to determine whether medication is an appropriate tool to help you manage your individual symptoms. At ACP, your psychiatric provider will listen to your concerns, evaluate your condition, and recommend a proper course of treatment (i.e. medication). As research continues to show that medication management is most effective with therapy, your psychiatric provider may also recommend an experienced therapist to meet separately, in conjunction with your psychiatric treatment.
Conditions Psychiatry May Help Treat
Our experienced psychiatric providers can help with a number of different issues, including, but not limited to:
Anxiety, Panic Attacks, and Phobias

Anxiety presents itself as persistent, pervasive, and excessive worry about a variety of different things. Sometimes, anxiety may have a specific focus, such as social situations, finances, job interviews, etc., but other times, anxiety can manifest itself as a feeling of dread or fear for no apparent reason.

Post-Traumatic Stress Disorder (PTSD)

Post-traumatic stress disorder, or PTSD, can develop if you've experienced or witnessed a shocking, frightening, dangerous, or otherwise traumatic event. Though PTSD is common among veterans, if you experience a traumatic occurrence, such as a car accident or witnessing a loved one's death, these events can precipitate the development of this condition.

Bipolar Disorders

Once referred to as manic depression, Bipolar Disorder is a brain and behavioral condition that causes unusual and/or severe shifts in mood, energy, activity levels, and in the ability to carry out daily tasks. Because there is more than one kind of Bipolar Disorder, your psychiatric provider will evaluate the frequency, severity, and pattern of your symptoms to help determine which type of Bipolar condition you're experiencing.

Schizophrenia

A long-term psychiatric condition, Schizophrenia affects your thoughts, mood, and behavior. Symptoms can include anxiety, aggression, delusions, memory loss, and hallucinations. According to the Brain and Behavior Research Foundation, men and women may develop symptoms of schizophrenia between the ages of 16 and 30.
Twin Cities Substance Addiction Treatment
---
As each client is different, however, you may discover that improving your quality of life is better achieved through a combination of therapy and medication management.
At ACP, our individual therapists are trained to assess and treat the entire spectrum of behavioral health issues. We'll address your unique needs, including substance dependence or addiction, but not limited to it. Our providers can also address issues, such as depression, anxiety, family conflict, chronic pain, eating disorders, personality disorders, and more.
Benefits of Individual Therapy with Medication Assisted Treatment (MAT)
Individual Suboxone® Therapy
Suboxone® is an important component of treating opioid dependence or addiction, but combining therapy with psychiatric care works better than either approach alone. Receiving individual therapeutic care is critical to giving you the tools necessary to succeed in your journey to recovery.
How Group Therapy Can Enhance Medication Assisted Treatment (MAT)
Group Suboxone® Therapy
If deemed beneficial, our therapists may recommend that you participate in group therapy, alongside your Suboxone® treatment and individual therapy. Participating in group therapy may seem intimidating at first, but it provides real-life skills, support, and the chance to practice the skills you've learned outside of therapy. You'll have a sounding board for your experiences, and learn from the perspectives of your peers.